Below you can find an interactive map of the United States, where the marijuana legislation for each state is covered in depth. If you are wondering where is medical marijuana legal or where recreational marijuana is available for purchase, click the state you are interested in for more details.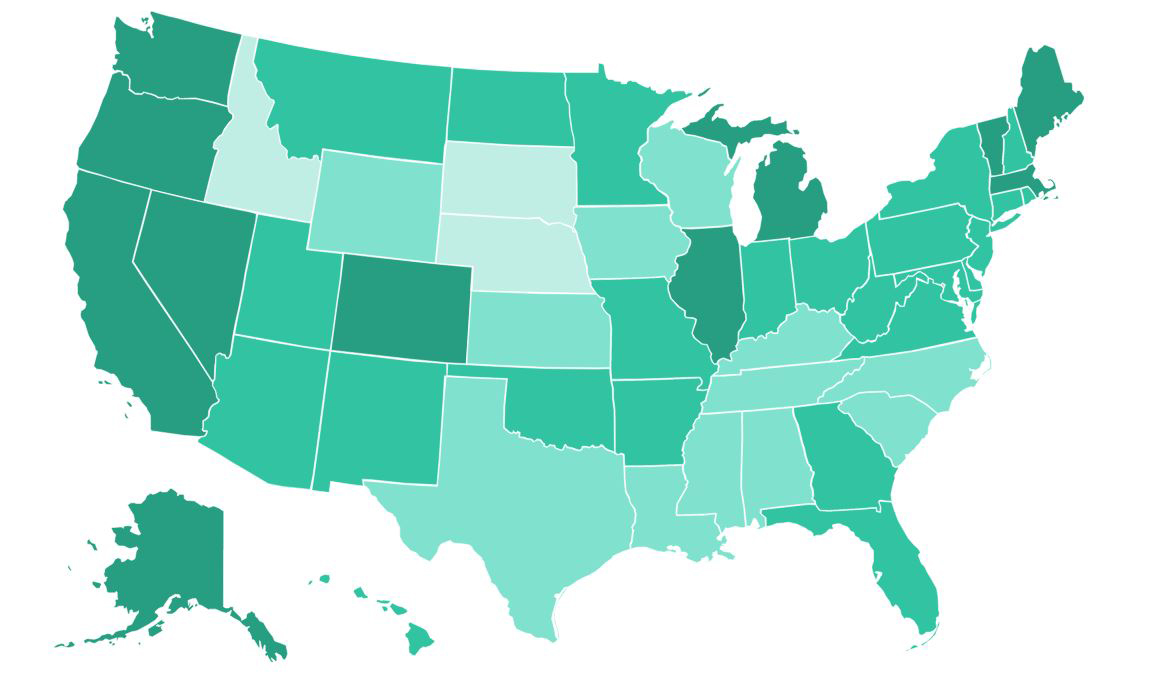 As recently as a decade ago, marijuana legalization was still considered an unthinkable topic. However, a lot has changed in a short amount of time, as people in the United States are beginning to embrace the possible benefits of marijuana. In fact, six in 10 Americans back full marijuana legalization. Today, 47 states, as well as Washington, D.C., have legalized marijuana in one form or another.
With the rapid rise in the popularity of marijuana, many people are asking where is medical marijuana legal and where is recreational marijuana legal? Unfortunately, the answer to that question isn't so straightforward because marijuana laws in the United States are complex.
All Forms of Marijuana are Federally Illegal
On the federal side, marijuana in all forms has been illegal since the passage of the Controlled Substances Act in 1970. Under that federal statute, marijuana and its intoxicating compound THC (tetrahydrocannabinol) are classified as Schedule I substances. Schedule I substances are the most tightly restricted category, reserved for drugs with no currently accepted medical use and a high potential for abuse.
Conflicting State and Federal Marijuana Laws
Despite marijuana remaining illegal at the federal level, over the past two and a half decades, a growing number of states have passed their own policies legalizing marijuana in some capacity. Today, a majority of Americans live in states with some form of legalized marijuana access. Conflicting state and federal marijuana laws can make it challenging to know what states have legalized marijuana and whether marijuana is legal where you live.
That is why we have created the above marijuana legalization map. The map lets you quickly see how marijuana law has rapidly changed across the U.S. over the past 20+ years, as well as what the marijuana laws currently look like in your state.

Now that you better understand the complexity of U.S. marijuana laws, let's again take on the question– Where is medical cannabis legal?
Our interactive marijuana legalization map makes it easy to determine which states have legalized marijuana, and at what capacity it is legal. Our color-coded system provides a visual, at-a-glance summary of marijuana legalization across the U.S. Quickly see the U.S. states where medical cannabis is legal, which states permit recreational and medical marijuana use, which offer limited medical cannabis access, and which do not make marijuana legal for any purpose.
If you are interested in learning even more about the legality of marijuana, our interactive marijuana legalization map allows you to click on a state to reveal a pop-up window with more details about that state's current marijuana laws. There, you'll find information on any pending marijuana legislation, available polling data on marijuana, and any marijuana tax revenue calculations or estimates. We've also included each state's rate of opioid-involved overdose deaths, which can act as evidence that the legalization of marijuana might be associated with decreased prescription opioid use and overdose deaths.
For more in-depth information on the marijuana laws of a particular state, simply click 'More Information' within the pop-up window and you'll be sent to that state's respective law overview page. You can also search for marijuana laws by state. Simply use the drop-down menu to select the state you'd like more information on.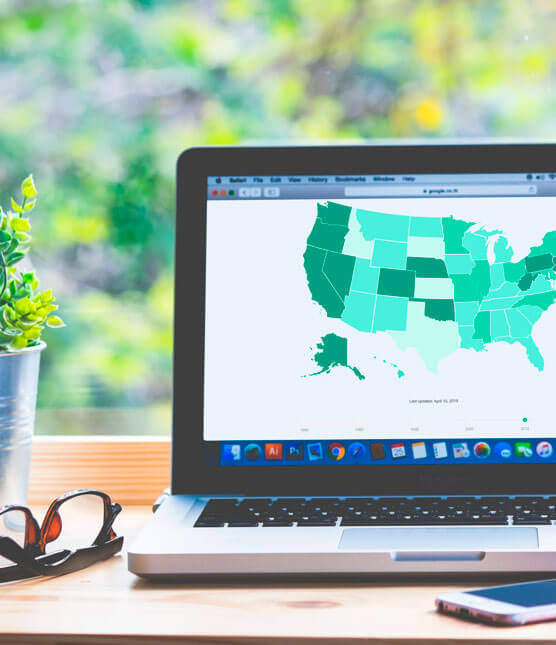 While the federal government doesn't recognize marijuana's medical potential, 60 percent of U.S. states have laws legalizing the use of medical marijuana as of 2020.
California became the first state to legalize medical marijuana in defiance of federal law in 1996. Two years later, Washington State and Oregon followed suit.
Today, there are 33 U.S. states where medical cannabis is legal and feature comprehensive public medical marijuana programs in their books.
Below you can find a list of the states where medical marijuana is legal. Click on the name of the state to read a comprehensive overview of the current state of medical marijuana laws in that state. Along with the listed states, Puerto Rico and Washington, D.C. have also legalized medical marijuana.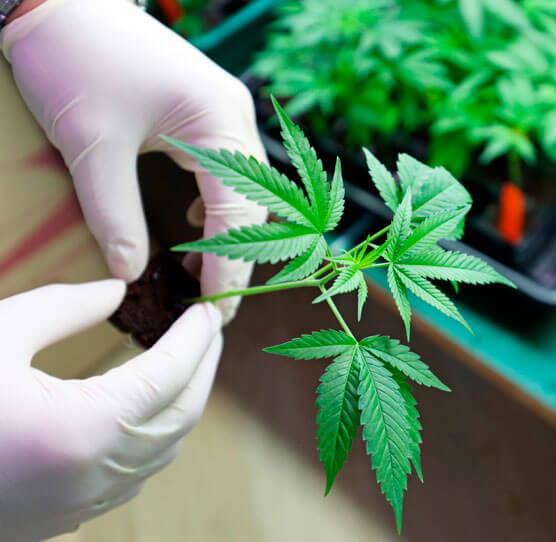 Each medical marijuana state approaches the legality of medical marijuana differently. The conditions that qualify for medical marijuana and the amount of marijuana a patient can possess at one time will vary from state to state.
Some states allow patients to purchase marijuana products from dispensaries and grow their own cannabis plants at home, while others limit access to either dispensaries or home cultivation.
States With Limited Medical Cannabis Access
An additional 14 states have passed highly restrictive medical marijuana laws that offer very limited medical cannabis access. These states currently only give patients access to cannabis products that are very low in THC. Most often, these low THC products come in the form of cannabis oil.
Below, you can find a list of the states with limited medical cannabis access. For more information, click the name of the state for an overview of the medical marijuana laws in that state.
*As of July 1, 2019, Kansas residents that have obtained a doctor's letter can legally bring back low THC cannabis oil from states where it's legal and administer it.

Medical marijuana legalization has a lot of popular support, and marijuana is increasingly acknowledged for its potential therapeutic application by a variety of experts, including doctors, researchers, and lawmakers.
A growing body of research supporting marijuana's use for medical purposes combined with an increasing demand for safer treatment alternatives will likely lead to even more states legalizing medical marijuana in the future.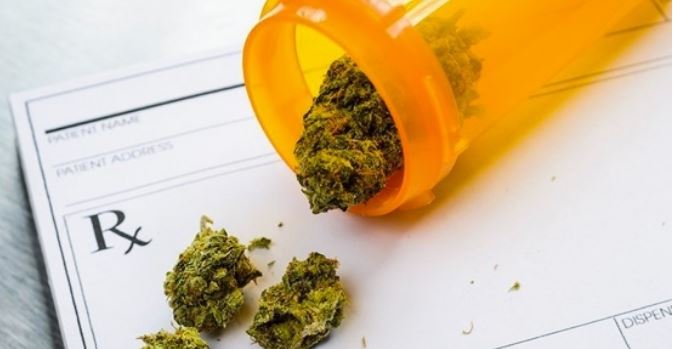 Eleven states, as well as Washington, D.C., have legalized recreational marijuana. Colorado and Washington State were the first states to legalize recreational marijuana in 2012 after voters approved marijuana measures. Since that time, recreational marijuana legalization has expanded to more than a fifth of the nation's states.
Below, you can find a list of the states that have legalized recreational marijuana as of today. For more information on the specific recreational marijuana legislation in each state, click on the hyperlinked name of each state.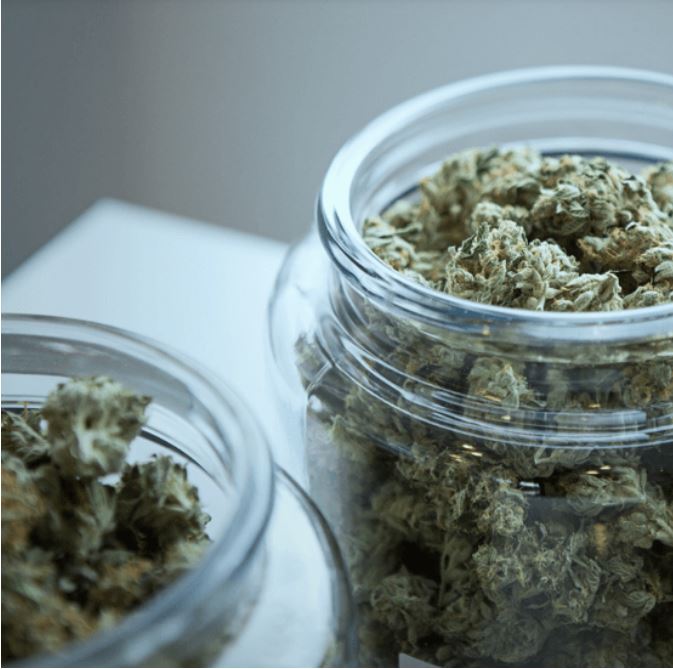 After a run of victories for marijuana reform advocates over the past few years, several more states are poised to legalize recreational marijuana in the near future. So which states are going to legalize marijuana next? Marijuana legislation has made progress in several states recently, and below we detail all of the latest developments.
New Jersey and New York
Both New Jersey and New York advanced legislation to legalize recreational marijuana in 2019, but talks in both states fell apart. Many expect talks to resume sometime in 2020.
New Hampshire
In New Hampshire, a marijuana legalization bill passed the full House of Representatives in April 2019. Unfortunately, the bill was then put on hold in the Senate.
Ohio
In Ohio, lawmakers worked to present a recreational marijuana referendum on the November 2019 ballot, but the petitions were rejected. The Ohio Marijuana Legalization Initiative would have allowed adults 21 and older to buy and possess marijuana. They hope to try again for the 2020 ballot.
Arizona and Florida
There are also recreational marijuana ballot initiatives expected in Arizona and Florida in 2020. Arizona voters turned down a recreational marijuana measure in 2016, but the public opinion toward cannabis has improved since then.
Florida's medical marijuana program has been such a success since it launched in 2017 that recreational marijuana legalization seems inevitable.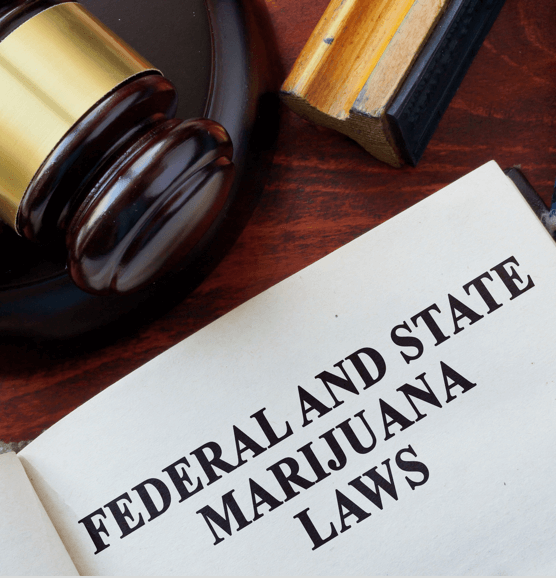 Arkansas and Montana
In Arkansas, a local organization is currently collecting signatures for a 2020 recreational marijuana ballot initiative, the Recreational Marijuana Amendment of 2020.
Progress has also been made on legalization in Montana, where a recreational marijuana ballot initiative, the Marijuana Regulation Act, has already been submitted to state election officials for the 2020 ballot.
MEDICAL MARIJUANA, INC. IS YOUR MEDICAL MARIJUANA LEADER
Medical Marijuana, Inc. is staying on top of all of the latest marijuana legislation and laws. One of our most frequently asked questions is "where is medical marijuana legal?" That is ehy we have created this database of information, in order to keep all of our customers informed.
ven if marijuana is not legal in your state, hemp oil and CBD oil products are in most cases lagally available. CBD products derived from hemp contain only trace levels of THC, and they are legal on a federal level if you are interested in getting started using CBD products, take a look at the Medical Marijuana, Inc. online store today!