Here we explore further the question: Is CBD psychoactive? The answer is no. CBD is non-intoxicating and doesn't cause euphoric feelings.
The use of cannabis and cannabinoids is growing in the U.S. and around the world, with many interested in taking advantage of the benefits of cannabinoids. However, some curious individuals are hesitant to use cannabinoids because of marijuana's potential intoxicating psychoactive effects. If you are someone who is reluctant to use cannabis products because you do not want to experience psychoactive side effects, consider CBD products instead.
Is CBD Psychoactive?
Because
CBD products are federally legal
and becoming much more popular over the last few years, many people are wondering,
"Is CBD psychoactive?
" In fact, this is one of the most common questions CBD experts get from individuals interested in trying CBD.
The answer is a definitive no. CBD is not psychoactive. However, perhaps the better question is whether CBD is intoxicating or not. While the question is slightly different, the answer is the same. CBD alone is not intoxicating and will not produce any of the euphoric feelings commonly associated with cannabis use.
Cannabis features many active compounds that interact with the body's endocannabinoid system to produce various effects when ingested. The two most well-known compouds are cannabinoids called THC (which is short for tetrahydrocannabinol) and CBD (short for cannabidiol). The key difference between THC and CBD is that CBD does not produce any intoxicating effects.
THC is the chemical found in cannabis that produces psychoactive effects and euphoric feelings. Marijuana naturally contains higher levels of THC, explaining why using marijuana tends to have such effects. CBD is naturally found in higher quantities in hemp. CBD products made from pure hemp, such as the products found in the Medical Marijuana, Inc. store, contain no more than trace levels of THC.
Some users report feeling increased relaxation when taking CBD. While this may be misperceived as being intoxicated, it is simply an effect of the CBD and shouldn't be confused with the impairing psychoactive effects of THC. As such, low-THC and CBD products with no detectable amount of THC offer the natural benefits of cannabidiol without THC's intoxicating, or psychoactive, effects.
Now that we have answered the question "Is CBD psychoactive?", read more below about the differences between CBD and THC and discover the difference between hemp and marijuana.
CBD vs. THC
As mentioned above, both CBD and THC are a type of active chemical compound called cannabinoids. Since CBD and THC are both plant-based, they are known more specifically as phytocannabinoids. Even though THC and CBD are both cannabinoids, they interact with and affect the body in different ways, leading to different results.
Another important distinction to make when discussing the differences between the cannabinoids CBD and THC, is the difference between Hemp and Marijuana.
Hemp vs. Marijuana
CBD's distinct effects on the human body, while non-psychoactive, are easier to understand when you consider where your CBD is coming from. CBD can come from either a hemp plant or the marijuana plant.
While hemp and marijuana are both members of the same species of plant, Cannabis sativa L, the two plants are unique in their chemical makeup. These chemical differences mean that hemp and marijuana are often used for very different purposes.
Despite these differences, hemp is often wrongly lumped in with its illicit cousin marijuana in prohibition. That is far from the truth, and below we explore the important distinctions between these two members of the cannabis family next.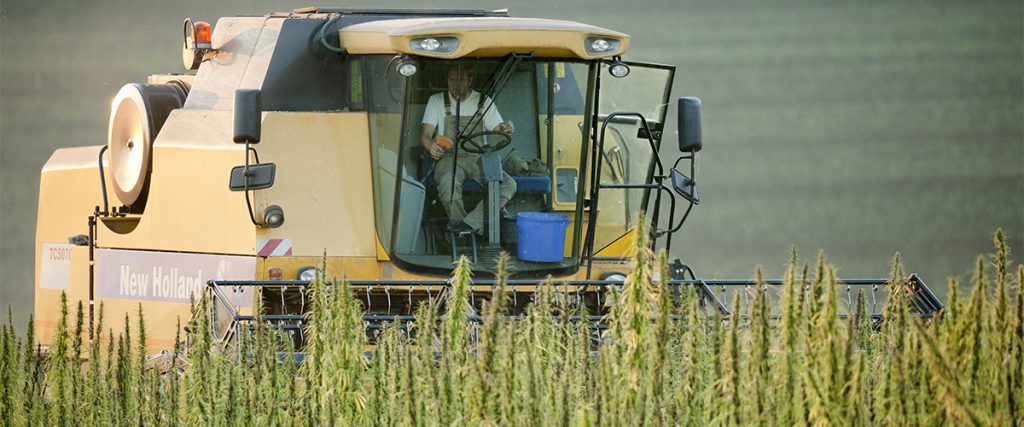 What is Hemp?
Hemp is a cannabis plant harvested commercially for its seeds and stalks. Hemp contains less than 0.3% THC. Because this trace level of THC is far too low to get a user intoxicated, hemp products are federally legal in the U.S.
In addition to producing low levels of THC, hemp is cultivated to contain much higher levels of CBD than marijuana. We use hemp to create our CBD oil, but hemp seeds and stalks are also used to produce a number of products, including:
Food

Wellness products

Body care products

Paper

Textiles

Building materials

Plastic composites

Biofuels
What is Marijuana?
Marijuana is a cannabis plant that often contains between 10-30% THC. These high levels of THC in marijuana provide the euphoric and intoxicating effects users often experience. Due to the THC in marijuana plants, marijuana is currently illegal on the federal level, although many states have made it legal on the local level.
The highest concentration of THC can be found in the plant's flowers, making the flower the most valuable part of the marijuana plant. Unlike hemp, marijuana stalks and fibers have little commercial use. As for CBD, marijuna plants do produce some CBD, however, they produce a much lower amount in respect to THC than the typical hemp plant.
Medical Marijuana, Inc. CBD Oil Products
Our CBD products use only the highest-quality CBD, allowing customers to experience the healing effects of CBD in a variety of ways. Some popular
CBD oil products
include
hemp oil concentrates
,
tinctures
,
liquids
,
capsules
, and
CBD topicals
, lotions, and salves. We even sell
CBD for pets!
At Medical Marijuana, Inc., we offer CBD oil products derived exclusively from hemp plants. Only trace levels of THC are found in our CBD oil, eliminating the possibility of a CBD product that would produce psychoactive effects for a user. However, if you are concerned that even a small amount of THC is too much, we offer isolated CBD products that contain no detectable levels of THC. Below, we offer a brief explanation of CBD isolate products and highlight some of our favorite CBD isolates.
CBD Isolate Products
If you want to avoid THC in your products, Medical Marijuana, Inc. sells CBD products that don't contain any detectable levels of THC as well. By formulating with non psychoactive CBD isolate, we are able to offer all the benefits of CBD's effects on the body without the worry of ingesting any THC.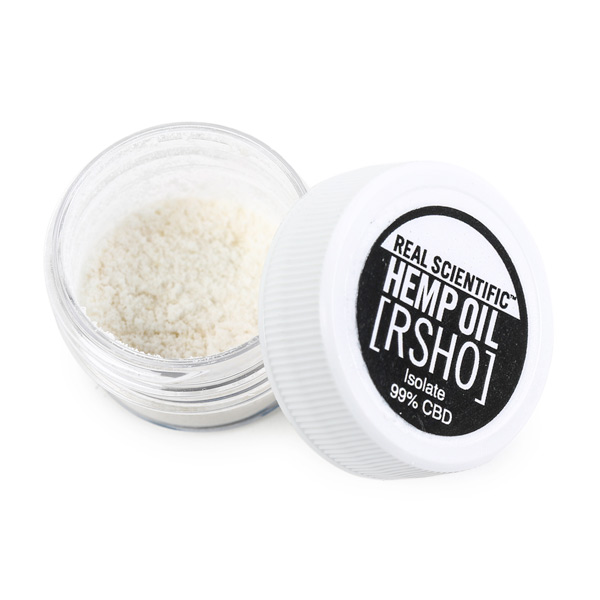 CBD isolate
is not a synthetic or lab made cannabinoid. Instead, it is an all natural product, extracted from the hemp plant and refined down to an incredible purity. The
effects of CBD isolate
are immediately felt when inhaled, and the powder allows for easy measuring and use.
Like RSHO® hemp oil, Real Scientific Hemp Oil® CBD isolate is extracted from non-GMO hemp using supercritical CO2. The extraction produces a botanical concentrate that includes the cannabinoids and other plant material found naturally in hemp plants.
The CBD hemp oil is then purified using a proprietary process that filters plant material and removes excess waxes, producing a pure isolate powder that is 99% CBD. The CBD isolate powder has no taste or smell to it and can be integrated into a number of products, like edibles and vape oils.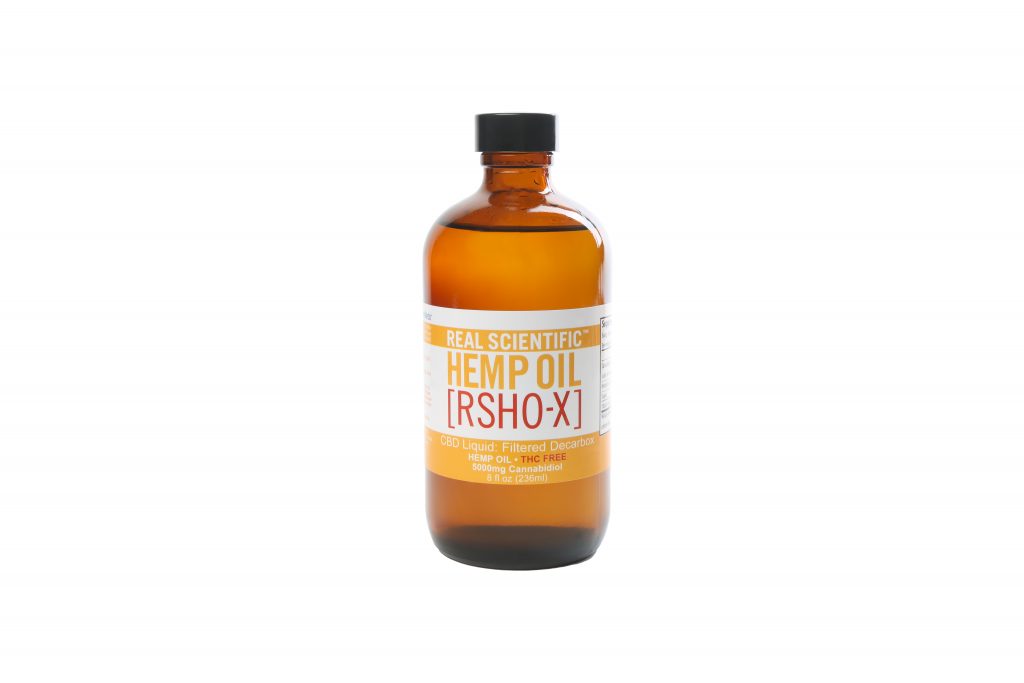 The first CBD hemp oil product of its kind, RSHO-X™ is a version of our customer favorite Real Scientific Hemp Oil™ Liquid that contains no detectable levels of THC. RSHO-X™ contains no detectable levels of THC. It has therefore become the CBD product of choice for many, including:
Parents of small children

First responders

Competitive athletes
RSHO-X™ provides safe, non-intoxicating delivery of CBD to the body by combining our CBD isolate with healthy MCT oil. With virtually no taste at all, RSHO-X™ can be taken as is or added to foods or beverages.
How to Start a CBD Oil Routine
You can get started adding CBD oil to your day by visiting
Medical Marijuana, Inc.'s online CBD store
, or visit our
CBD oil education page
to learn more about everything CBD.