WE ARE A COMPANY OF FIRSTS®
THE FIRST TO BRING MEDICAL CANNABIS PRODUCTS TO MEXICO.
A version of Medical Marijuana, Inc.'s Real Scientific Hemp Oil™ with no detectable THC, RSHO-X™, was the first medical cannabis product accepted into Mexico when it was approved as a prescription medication early in 2016. It was authorized for a young girl Grace, who suffered from Lennox-Gastaut syndrome, leaving her with up to 400 seizures a day.
Although Mexico started to approve the use of cannabidiol (CBD) for patients with a doctor's prescription, the government remained staunchly opposed to products with even trace amounts of tetrahydrocannabinol (THC) in them. In order to import our CBD hemp oil to Mexico, we had to develop a product without detectable THC. Medical Marijuana, Inc. was able to achieve this by isolating the CBD within our hemp oil, thus eliminating the trace amounts of THC in our oil to make RSHO-X™.
"We are proud that our CBD product, without THC, is the first-ever cannabis product to be approved by the federal authorities in Mexico for import," said Dr. Titus. "Our goal is to continue to educate the medical, scientific community and general population about the benefits of the plant and advocate for medical cannabis access in Mexico and across the world."
In January of 2016, following this initial approval, Medical Marijuana, Inc. participated in and sponsored educational events aimed at raising awareness among patients for cannabidiol (CBD) hemp oil. This participation included having Medical Marijuana, Inc. CEO Dr. Stuart Titus educate decision makers about the endocannabinoid system and the effects of cannabinoids, including cannabidiol from hemp.
RSHO-X™ WAS THE FIRST MEDICAL CANNABIS PRODUCT ACCEPTED INTO MEXICO WHEN IT WAS APPROVED AS A PRESCRIPTION MEDICATION EARLY IN 2016.
These educational events were also intended to relay the correct information about CBD to Mexican health officials, lawmakers, and doctors, so they can make qualified decisions about the role of CBD products in the Mexican healthcare system.
During this period, Medical Marijuana, Inc. launched HempMeds® Mexico to work with patients interested in accessing RSHO-X™ for themselves. Medical Marijuana, Inc. and HempMeds® Mexico partnered with local non-profit organizations like the Por Grace Foundation as part of this outreach as well.
It was during these educational events across Mexico that COFEPRIS, the health authority in Mexico, finally awarded the first official certificates for the import of RSHO-X™on February 2, 2016. Medical Marijuana, Inc. started shipping orders through HempMeds® Mexico 2 days later. HempMeds® Mexico works closely with the families in Mexico to complete the process needed to import RSHO-X™.
HempMeds® Mexico also works to fill the gap between federal policy and patient and doctor concerns. While some doctors remain uneducated, many others have interacted directly with HempMeds® Mexico to educate themselves on CBD and the process for prescribing and importing RSHO-X™ into Mexico for their patients. By reaching out to physicians and medical experts across Mexico, we are able to raise awareness for RSHO™ as a possible solution.
COFEPRIS, THE HEALTH AUTHORITY IN MEXICO, FINALLY AWARDED THE FIRST OFFICIAL CERTIFICATES FOR THE IMPORT OF RSHO-X™ ON FEBRUARY 2, 2016.
HempMeds® Mexico supports patients as they maneuver through the process of approval for RSHO-X™ by discussing it step by step and including the necessary means for patients to move forward. The HempMeds® Mexico team also collaborates with patients to help them attain their certificate for import and allows approved patients to order RSHO-X™ from their website. It is the goal of HempMeds® Mexico to assist all qualifying patients who are interested in accessing CBD hemp oil by aiding them in each point in the process.
Medical Marijuana, Inc. and HempMeds® Mexico are also participating with the state health organizations in Mexico to ease the transition that applications must make between the state and federal levels, so more patients become approved for RSHO-X™.
Over 30 national news outlets followed this milestone for Medical Marijuana, Inc. and access to medical cannabis in Mexico, highlighting the benefits of CBD hemp oil. They speculated that the Mexican CBD market to be worth $12 billion and could replace up to 40% of the nation's drugs used for neurodegenerative diseases.
These educational events, the legalization of CBD products, and swinging public favor all helped lead to an April 21st speech by Mexican President Peña Nieto in which he declared an intention to start cannabis reform in Mexico.
After the Peña Nieto's announcement, Medical Marijuana, Inc. and HempMeds® Mexico met with partners in Mexico to gain a better understanding of how to help families in Mexico who need alternatives to traditional medical care.
If you are a patient in Mexico interested in getting started with RSHO-X™, contact HempMeds® Mexico at 001-883-786-2440 or visit the HempMeds Mexico website today.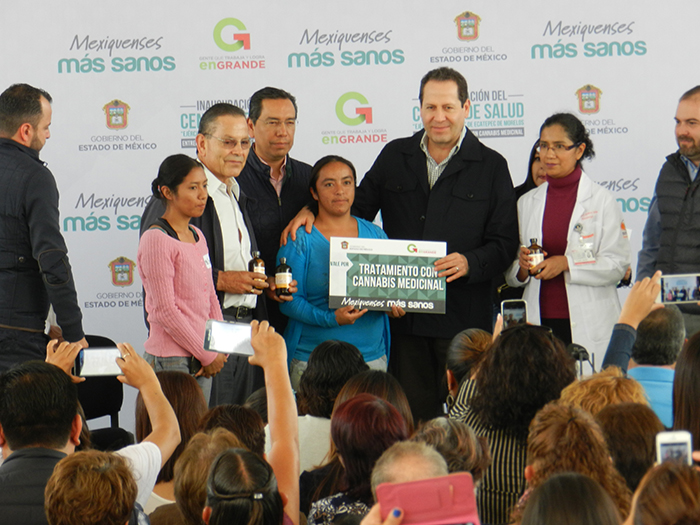 RSHO-X™ was the first legally imported cannabis product into the country in February of 2016 when the Health Department of Mexico, COFEPRIS, issued the country's first-ever government permits for the import and use of HempMeds® Mexico's CBD products.
These historic first import permits were the entry point for HempMeds® products into the Mexican market and marked a turning point in Mexico's medical cannabis policy, leading to the legalization of cannabis products for medical purposes nationwide.
Since before entering the Mexican market, Medical Marijuana, Inc. has been dedicated to expanding access to cannabinoids to the 120 million citizens in the country. Medical Marijuana, Inc. hosted and participated in a number of educational sessions and public debates on access to medical cannabinoids in the months leading up to the authorization of CBD in Mexico. Now patients in Mexico can apply to COFEPRIS to import CBD oil products from HempMeds® Mexico for difficult to treat conditions like epilepsy and cancer.
Patients in Mexico interested in importing CBD oil products should visit the HempMeds® Mexico website, call (81) 800 004 54, or email the company's support team at [email protected].