Federal prosecutors can now decide whether to enforce federal law prohibiting marijuana, even in states where marijuana has been legalized. Here's a look at the implications of the change.
According to a report by the Associated Press, United States Attorney General Jeff Sessions announced this morning that he has rescinded an Obama administration federal policy that directed prosecutors and law enforcement to not prioritize interference with states that legalized marijuana.
That policy, the Cole Memo, was a memorandum originally drafted by former U.S. Attorney General James M. Cole in 2013. Published through the Department of Justice, the document indicated that federal law enforcement would not crackdown on state-legal adult use marijuana operations, provided officials made efforts to prevent the distribution of marijuana to minors, criminal enterprises, and to states where it was illegal.
Sessions one-page memo to federal prosecutors announcing the policy being rescinded comes only days after retail marijuana shops opened in California, and indicates that Sessions does have plans to aggressively enforce federal law and stand in the way of states that legalize marijuana.
"In deciding which marijuana activities to prosecute under these laws with the Department's finite resources, prosecutors should follow the well-established principles that govern all federal prosecutions," Sessions wrote in the memo.
Months ago Sessions acknowledged the Obama-era hands-off policy was still in place, but quickly reiterated that marijuana "still remains illegal with regard to federal purposes." Sessions is a staunch cannabis opponent. In the past, he compared marijuana to heroin and blamed it for spikes in violence, despite these claims being based on fear and not fact.
The announcement by Sessions was quickly criticized by advocates and lawmakers, including Colorado Republican Sen. Cory Gardner, who said in a tweet that the move by the Justice Department "has trampled on the will of the voters."
Colorado is one of eight U.S. states have legalized recreational marijuana. Polls show that a large majority of Americans believe marijuana should be legal.
This Is What the Change Could Mean for Legal Marijuana
Sessions' new policy will give U.S. attorneys throughout the nation to decide whether to use federal resources to devote to marijuana enforcement.
Enforcement of federal laws against recreational marijuana could jeopardize billions in projected revenue nationwide. A recent report projected that the U.S. legal cannabis market would balloon from $6.7 billion in 2016 to $24.5 billion by 2025.
This would also directly cut into the $1.4 billion in tax revenue generated by states where marijuana has been legalized.
Colorado has used its cannabis tax dollars since legalizing recreational marijuana in 2012 to fund mental health clinics, provide college scholarships, as well as repair roads, schools, and fund Medicaid. A majority of Washington's marijuana tax revenue goes to education and youth programs, substance abuse prevention and treatment, community health centers, and the state's share of Medicaid.
A federal crackdown could also put a significant wrench in the marijuana industry's growing job sector, which was on track to surpass the number of people employed by manufacturing, utilities, and government industries. A recent market report from Marijuana Business Daily calculated that the nation's cannabis industry has already generated 165,000 to 230,000 full- and part-time jobs, up from the 100,000 to 150,000 jobs in place the year before.
Sessions' memo may not affect states where medical marijuana is legal. A congressional amendment, the Rohrabacher-Farr Amendment, prohibits the Justice Department from interfering with medical marijuana programs in the 29 states where medical cannabis has been legalized. Earlier this year, Sessions sent a letter to congressional leadership requesting that they not continue the amendment. The amendment was just  extended to at least January 19.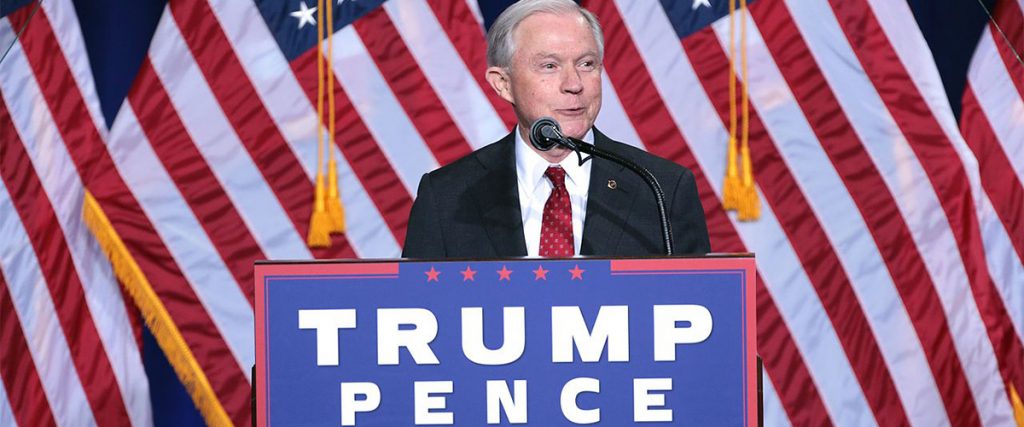 What Could the Memo Mean for Medical Marijuana, Inc.?
Medical Marijuana, Inc. and the federally legal hemp cannabidiol (CBD) market are unaffected by the policy change announcement by Sessions.
CBD hemp oil is excluded from the federal Controlled Substances Act. Customers, shareholders, and the public can be reassured that hemp-based CBD products are unaffected by recreational laws or current political stances.
Keep up with the Cannabis Industry
Learn more about marijuana laws in the U.S. through our education page, and keep up with developments in the legal cannabis industry by visiting our news feed.